Tradescantia tharpii
Tharp spiderwort
CODE: 0B2-0002
ZONE: 4a
PRICE: $7.00
POT SIZE: 4.5"sq x 3.5", 475 ml


I'm so excited about this native spiderwort! I've always liked Tradescantia bracteata for it's diminuitive size, and this charmer looks like it's every bit as attractive.

Brought into the public's eye as a 'Great Plants for the Great Plains' introduction in 2003 by the Nebraska Statewide Arboretum, it was recognized for its beauty, character, and hardiness. To top it off, a portion of each plant's sale is donated to the GreatPlants® group to help fund more plant exploration and breeding. So what makes this little guy so special? For me, it's the flowers. They're typical spiderwort flowers -- three-parted and opening on clusters of buds that hang down like grapes. When open, the blooms are multi-colored, spanning a range of pink, rose, blue, and purple, creating a symphony of color atop grass-like leaves fringed with purplish hairs. Summer heat can push the plants into semi-dormancy, but they'll reappear when cool weather returns. You may also get a second flush of blooms in fall. Plant it in average, dry to wet soils.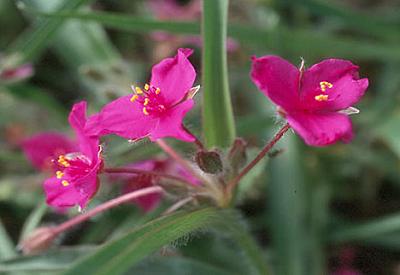 Bluebird Nursery, Inc.