Tradescantia bracteata
Small spiderwort
CODE: 0B2-0001
ZONE: 4a
PRICE: $7.00
POT SIZE: 4.5"sq x 3.5", 475 ml


I first came across this charming little spiderwort about ten years ago as a 'freebie' in my first mailorder plant shipment. Having never ordered plants from a catalog, I probably went a little overboard. But I learned so much and feel that being introduced to this little charmer made it even more worthwhile.

The leaves are quite interesting and grass-like, forming foot-high clumps of slightly hairy sprays tinged with purple. But they turn into real stars in late spring when their inch-wide, three-petaled rose-purple flowers open up to the world. Each individual bloom only lasts a single day, but the buds hang down in large pendulous clusters that provide a show for several months at a time. Traditionally, spiderworts have a reputation for being gangly and invasive. This spiderwort is different -- at only only twelve inches in height, there's not enough plant there for it to get gangly! It does spread into small clumps, but not nearly as quickly as other cultivars and is easily contained within the garden. It's quite happy in average, dry to wet soils in full sun. If it doesn't get a lot of moisture the foliage might decline in the summer; just snip it back almost to the ground and you'll get a flush of clean new growth and possible fall blooms. I have a small patch growing in front of hardy begonias and Dictamnus albus var. purpureus; I imagine the purple-tinted foliage would draw nicely on Sedum 'Purple Emperor' or Cryptotaenia japonica forma atropurpurea as well.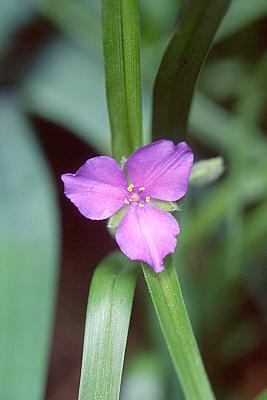 (c) 2007 Christopher P. Lindsey