Sedum 'Garnet Brocade' PPAF
Garnet Brocade sedum
CODE: 019-0002
ZONE: 3a
PRICE: $7.00
POT SIZE: 6.0"sq x 6.5", 2750 ml


What a perfect foil for other succulents! This new cultivar is similar to the old standby 'Matrona', but has more of a purplish cast to the foliage and a better habit.

Reaching about 18" in height, the strong, purplish stems enhance the vertical effect of the plant and are covered with fleshy, long gray-green foliage tinged with burgundy bronze. Yes, that's a lot of colors -- it's hard to pin this one down! In late fall burgundy flowerbuds open to garnet red sprays of flowers that butterflies flock to in droves. As mentioned earlier, it goes great with other succulent plants. Imagine a mat of golden-colored Sedum 'Angelina' at its feet or light gray-green Sedum 'Carl' mounded in front!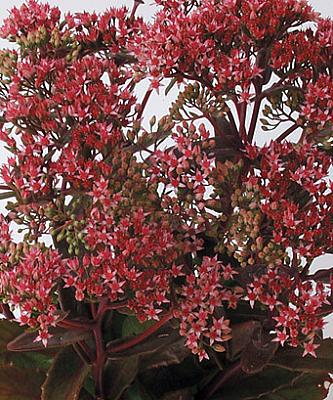 Courtesy of Proven Winners[R] -- www.provenwinners.com