Sedum 'Carl'
Carl sedum
CODE: 019-0001
ZONE: 4a
PRICE: $7.00
POT SIZE: 6.0"sq x 6.5", 2750 ml


Hailing from England, this improved version of the ubiquitous Sedum 'Autumn Joy' boasts vibrant pinkish-red flowers over tight clumps of dusky green foliage.

Happiest in sunny, dry, well-drained soils, it still performs admirably in partial shade (although it will be a little lankier) in average or even clay garden soil. It's very heat and drought tolerant, making it perfect for harsh environments. Strangely enough, I appreciate this plant most in winter when the dried seedheads and stalks poke through the snow like arctic acacia trees. When I studied landscape architecture we used to scour the campus for mass plantings of sedum and pick them clean to use as trees in models that illustrated our designs, so beware of model-building college students! Its butterfly-attracting powers haven't gone unnoticed, though. I love watching the monarchs flit from flower to flower in the long shadows of a late summer day.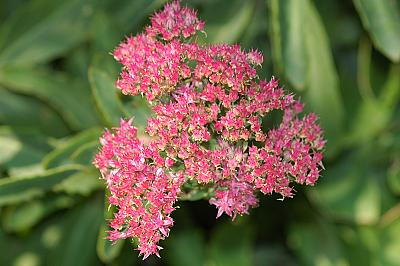 (c) 2007 Christopher P. Lindsey