Iris 'Serenity Prayer'
Serenity Prayer iris
CODE: 010-0008
ZONE: 3a
PRICE: $7.00
POT SIZE: 4.5"sq x 5.0", 1004 ml


The fourth in our series of dwarf iris, this little charmer produces clouds of creamy white iris blooms with bluish beards above its short, stilleto-like foliage. Extremely showy and attractive to butterflies, they barely reach one foot in height, making them perfect for the front of the perennial border. I like to plant rambling plants like Geranium 'Tiny Monster' behind it; the upright foliage acts as a support for the other plants when they're in bloom.

Like most bearded iris, 'Serenity Prayer' is happiest in well-drained soils with a little bit of moisture. Unlike most bearded iris, this one was awarded the Cook-Douglas Medal in 1995 by the American Iris Society! I wonder if we should've sent Josh Whedon some in 2005.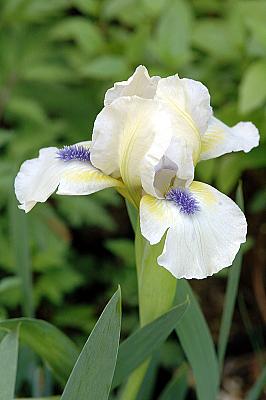 (c) 2007 Christopher P. Lindsey