Astilbe chinensis var. pumila
Pumila Chinese astilbe
CODE: 0A3-0001
ZONE: 4a
PRICE: $7.00
POT SIZE: 4.5"sq x 5.0", 1004 ml


I first met this Astilbe at the Allen Centennial Gardens at the University of Wisconsin, Madison, in 1996. I had just finished my coursework for my Master's degree (but not the thesis), had entered the workforce as a computer system administrator, and was happy to be back outside for a change.

I don't know if it was my sudden re-exposure to the outdoors that addled my brain or if this plant did it on its own merits, but I fell in love with dwarf Chinese astilbe and its wonderful flowers that day. It blooms later than most other astilbes, producing foot-high spires of textured lilac-pink blooms above its fern-like foliage in late summer. The flowers last for quite some time, illuminating shady nooks in the garden and adding movement through throngs of visiting butterflies. Culture-wise, it's a tough plant. It prefers wet, well-drained soils in full to part shade, but it will tolerate just about anything in the shade. Although this astilbe deals with drought better than most others, it will still become unsightly and brown if it dries out too much. It can eventually cover large areas with regular division every 3-4 years, although it works well in small plantings as well. Try it in the front of a shaded border or woodland garden, especially in front of red baneberry for continuous seasonal interest.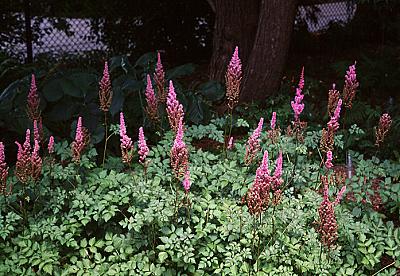 (c) 2007 Christopher P. Lindsey