Uvularia grandiflora
Large-flowered bellwort
CODE: 091-0001
ZONE: 4a
PRICE: $7.00
POT SIZE: 4.5"sq x 5.0", 1004 ml


If I could have just one species of plant in my garden, it would be... Well, OK, I can't pick just one. But this is one shade-lover that I can't do without!

A native charmer, it fills our early spring woodlands with the old-fashioned beauty of its yellow flowers. Comprised of six long, twisting petals, they hang down in pendulous clusters from atop a plant seemingly strained under the burden of so many blooms. Although the flowers are magnificent in April, the leaves maintain a subtle and charming character throughout the rest of the growing season. Light green with a whitish underside, they hang down, slightly twisted, from the stems that they completely encircle. Normally found in rich woodlands, and on wooded slopes, they perform best in moist, humusy soils in shade. Although the young growth can be susceptible to slugs, there are no serious insect or disease problems on this winner of the Royal Horticultural Society's Award of Garden Merit.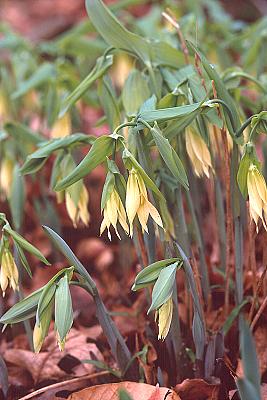 (c) 2007 Christopher P. Lindsey