Sanguinaria canadensis
Bloodroot
CODE: 08C-0001
ZONE: 3a
PRICE: $7.00
POT SIZE: 4.5"sq x 5.0", 1004 ml


When I was an intern at the Morton Arboretum in 1992 I worked under Joe Krol, then a member of the collections crew. Joe knew a lot about plants and opened my eyes to *all* of the plants around me, not just the select ornamentals that we saw in nurseries. Without Joe's guidance I don't know how long it would have taken me to appreciate the 'everyday' flowers -- our native wildflowers that add ephemeral beauty to our woods and prairies.

So why am I talking about Joe? The fact is, I've never known how to repay him for his tutelage. We lost contact after that summer, and I'm not even sure if he still works there. Maybe he'll read this and know that I'm very thankful. The other, more apropos reason is that bloodroot was Joe's favorite plant. He talked about the pure white flowers with yellow centers held above the foliage that bask in the spring sunshine, folding up at night to be clasped by two leaves that protect it like praying hands. He talked about the unique, dusky gray-green lobed foliage that sometimes went dormant and sometimes stayed all season long if there was enough moisture. And he talked about the red stain that soaked your fingers if you broke a root and how Native American Indians would use it to paint their bodies for ceremonies and war. Joe knew his plants, and for him to call this his favorite places it quite high on the charts. I don't know if it's because of my respect for Joe or because of my own experiences, but its's one of my favorites too. Since bloodroot only puts on one growth flush in spring, fertilize them in March to maximize their production.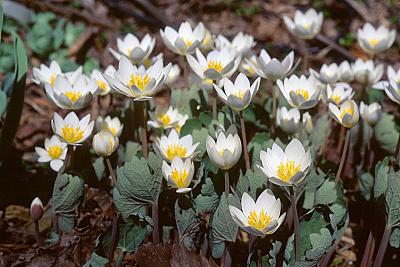 (c) 2007 Christopher P. Lindsey