Podophyllum peltatum
Mayapple
CODE: 089-0001
ZONE: 3a
PRICE: $7.00
POT SIZE: 4.5"sq x 5.0", 1004 ml


I think mayapples are the first wildflower that I ever remember learning. Well, it may have been jack-in-the-pulpit, but I was definitely more enamoured by mayapples.

I was in the fifth grade and our class was doing an overnight in a cabin at the Morton Arboretum. We looked at pond water under microscopes, dissected owl pellets, and generally did Linnaeus proud as we cataloged wildflowers in the sugar maple groves. Years later, I still adore this native wildflower. The handsome glossy green leaves join from a central stalk to form a natural umbrella under which pure white nine-petaled flowers form in the spring. Peek underneath in April and you'll see a large (1.5") nodding blossom with bright yellow stamens hiding from prying eyes. The flowers eventually give way to large green ovoid fruit in May (hence the common name) that is supposedly edible, but take care -- all other parts of this plant are toxic! I tried eating one once and wasn't particularly impressed, but hey. I'm not a squirrel. Mayapples only produce one flush of growth in the spring, so fertilize them in March before the foliage emerges. If you provide them with humus-rich, well-drained soil with decent moisture they're sure to spread into a beautiful colony that would make any fifth-grader's jaw drop in awe.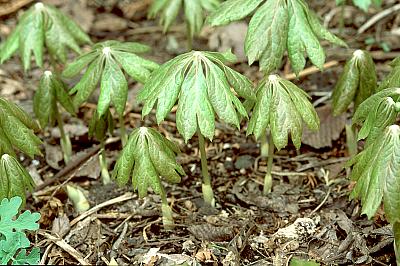 (c) 2007 Christopher P. Lindsey