Paxistima canbyi
Mountain lover
CODE: 083-0001
ZONE: 3a
PRICE: $8.00
POT SIZE: 4.5"sq x 5.0", 1004 ml


When I was first looking for Paxistima canbyi most people's reactions were generally the same:

"Why would you want to grow a plant that doesn't have ornamental flowers, fruit, fall color, or bark?" The answer is quite simple: texture. Texture like this is hard to come by in the garden, especially on evergreen plants with such a nice habit. I finally found some about five years ago, given as a division from Bernheim Arboretum and Research Forest on a plant that had grown beyond its bounds. Since then I've acquired several more plants from various sources and think I have finally quenched my thirst for it. In fact, I think I'm now willing to share. Mountain lover forms compact, low-spreading mounds of evergreen foliage that vaguely resembles miniature holly leaves (well, maybe one of the I. aquifolium cultivars). It will slowly colonize an area over time and is perfect with small spring bulbs or wildflowers like rue anemone. Despite its delicate appearance and common name, this is a pretty tough little shrub that will grow in just about any soil that doesn't have standing water. Plants grown in sun will be more compact than their shadier counterparts, but they'll need a little more moisture.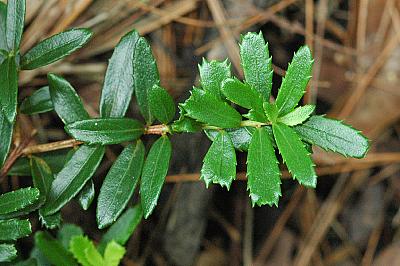 (c) 2007 Christopher P. Lindsey