Matteuccia struthiopteris var. pensylvanica
Ostrich fern
CODE: 07C-0001
ZONE: 3a
PRICE: $8.00
POT SIZE: 4.5"sq x 5.0", 1004 ml


I was first introduced to this fern at my grandmother's house in Chicago when I was around 13. She and my grandfather had just purchased a small home near Midway airport, and the south side of the yard against the neighbor's garage was filled with these plants. We were all amazed -- we had always assumed that ferns were tropical and wouldn't grow by us.

Of course, now I know better and use this North American native liberally in my shade garden. I'm not alone; it has become more popular in recent years because of its amazing textural and architectural qualities. It grows upright in a bold, vase-shaped form edged with fine leaflets, much like green ostrich plumes stuck endfirst into the ground. They can reach heights of six feet, although usually they're about three feet in my garden. As an added bonus some people eat the young fiddleheads, especially in the Northeastern states. In fact, Matteuccia struthiopteris fiddleheads are the state vegetable of Vermont. They're easily grown in medium to wet soils in part to full shade. They spread into small colonies by way of underground rhizomes, and although they're pretty tough, they're happier in rich soils. They go great with coarser plants, especially broad-spreading ones and groundcovers. Try it with hosta, Tricyrtis, or as a backdrop for Tellima grandiflora. Oh, one last note... Although many sources no longer differentiate between var. pensylvanica and var. struthiopteris, I choose to. The Eurasian version has bicolored petiole scales and more truncate pinna lobes than this North American version.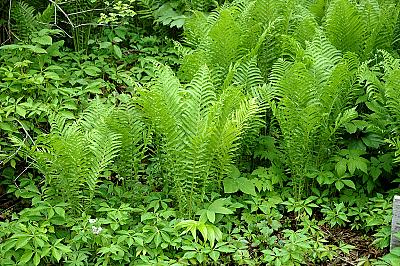 (c) 2007 Christopher P. Lindsey