Ligularia 'Little Rocket' PP#14,621
Little Rocket ligularia
CODE: 07B-0002
ZONE: 4a
PRICE: $13.00
POT SIZE: #1 container, 2450 ml


A few years ago Ligularia 'The Rocket' was all the rage. It's a magnificent plant and often reaches heights of six feet when in bloom. Unfortunately, those of us with small gardens can only admire plants in others' larger yards.

Until now. Little Rocket is a dwarf form of 'The Rocket'. With its dark green leaves barely reaching 24", it tops off at under four feet when in bloom. So wait... 48 - 24 = 24. That's right -- there are two feet of bright yellow flowers on each flower spike, of which there are up to 15 per plant. That's a lot of numbers, so let me break things down: this is a Ligularia for smaller spaces with lots of pure yellow vertical flower spikes in late summer. What more do you need to know? The most important thing when growing Ligularias is ensuring that they receive adequate moisture. Keep them well-watered and you'll be well-rewarded.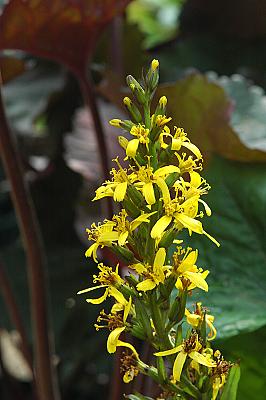 (c) 2007 Christopher P. Lindsey