Ligularia 'Little Lantern' PPAF
Little Lantern ligularia
CODE: 07B-0001
ZONE: 4a
PRICE: $16.00
POT SIZE: #1 container, 2450 ml


The miniatures just keep on coming! This is the smallest and cutest ligularia that I've seen, topping off at just 20". It has the same clean foliage that we've come to expect (except shorter, of course) topped by clusters of mid-summer-blooming clusters of golden-yellow flowers.

This is a difficult plant to find -- only 75,000 plants have been produced worldwide for 2006 and all are being exported out of Europe. In fact, this plant was almost totally destroyed at one time! It all started in 1993 with a German nurseryman named Helmut Stade. He enlisted the aid of students to harvest seeds from certain Ligularia species for breeding, but some students mistakenly collected seven seeds from a different Ligularia that was supposed to be sterile and must have hybridized with another plant in the nursery. Only one of those seeds germinated and showed the characteristics of 'Little Lantern'. Over time 50,000 plants were propagated at Helmut's nursery, but in the fall of 2002 all but five plants were destroyed by a flood. Determined not to give up, he sent those five plants to a tissue culture lab where they were able to replenish the supply. This is really the perfect ligularia for gardeners with small gardens. Or even big gardens! Either way, you won't be disappointed with this winner.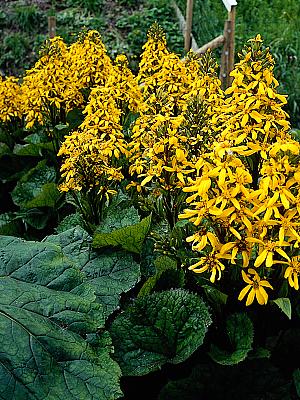 (c) 2007 Christopher P. Lindsey