Hepatica acutiloba
Sharp-lobed hepatica
CODE: 077-0001
ZONE: 4a
PRICE: $7.00
POT SIZE: 4.5"sq x 5.0", 1004 ml


I find it difficult to believe that Hepatica acutiloba hasn't stolen away the hearts of more gardeners worldwide. Those dainty white to pink to blue flowers last for months at a time when little else is blooming, later giving way to beautifully glossy, clean foliage. The blossoms almost remind me of a March-blooming daisy.

It's not a particularly picky plant, although it does need a cold winter to survive and some shade to protect it from the sun's harmful rays. It doesn't hurt to give it some good humus, but this is a plant that will take care of itself. Just let it do its own thing, and you'll be rewarded ten-fold. The foliage emerges fuzzy and gray in early March, exploding into masses of beautifully mottled foliage once the flowers have finished. The fruit appears in early summer and is supposedly a favorite of chipmunks, but I've personally never witnessed either one in my garden. This species is closely allied with Hepatica americana, visually differing by the acute (pointy) leaf apices. It also tends to prefer richer, more alkaline soils.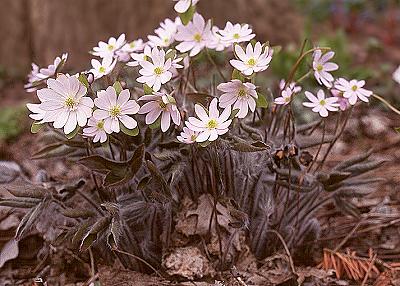 (c) 2007 Christopher P. Lindsey