Armeria maritima 'Nifty Thrifty'
Nifty Thrifty sea thrift
CODE: 064-0002
ZONE: 3a
PRICE: $8.00
POT SIZE: 4.5"sq x 5.0", 1004 ml


Most of us are familiar with the sea thrift that our grandmothers grew. Although they were great plants, there are far superior cultivars out now like 'Nifty Thrifty' and 'Bloodstone'.

And while most of these cultivars are grown for their exceptional long-lasting flowers, this selection is grown for its foliage. Sure, it has beautiful rose-pink flowers. Sure, they rise up above the leaves to draw swarms of butterflies. But those features are all ephemeral. 'Nifty Thrifty' takes things a step further by providing year-round interest with its variegated foliage. Grass-like and formed on mounded evergreen tufts, each dark green leaf is edged with a band of cream. Like other sea thrifts it needs light and good drainage, but it will do quite well in dry areas. The variegation lends an overall silver to tan effect to the plant, so I find it's best against dark foliage like Sedum 'Purple Emperor.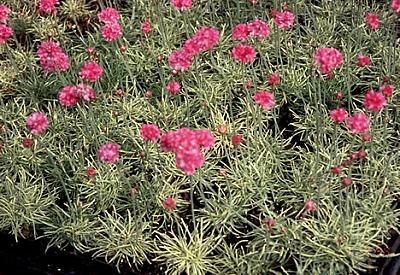 Bluebird Nursery, Inc.