Potentilla fruticosa 'Pink Beauty' PP#9874
Pink Beauty bush cinquefoil
CODE: 058-0001
ZONE: 3a
PRICE: $8.00
POT SIZE: 4.5"sq x 5.0", 1004 ml


Until I recently saw this cultivar in bloom at the Morton Arboretum I had pretty much given up on Potentillas. Generally speaking, they don't do too well in our Midwestern climate; the flowers usually fade and the plants look ratty.

This introduction has changed my perceptions, though. It has large, semi-double pink to blush-colored blooms that keep their color even in our summer heat. Like most potentillas it also has quite a long blooming season from June until frost. Finding a cultivar that broke the stereotypes was hard work. Louis Lenz and other researchers at the University of Manitoba started all kinds of research in the 1980s to determine how flower pigments responded to high temperatures. Based on their research they began breeding plants that retained pink colors in all kinds of light and soil conditions. After breeding over 1600 different plants over 20 years they had found a winner: 'Pink Beauty'. It retained its pink coloration well in all kinds of environments and was drought-tolerant to boot. If you've given up on Potentilla, give this one in a try. It might just change your perceptions. And if you haven't tried any before, learn from our experiences and only grow this one. It's quite a charmer!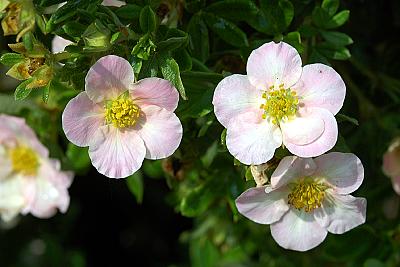 (c) 2007 Christopher P. Lindsey