Hydrangea serrata 'Midoriboshi-Temari'
Midoriboshi-Temari serrated hydrangea
CODE: 056-0004
ZONE: 5a
PRICE: $12.00
POT SIZE: 4.5"sq x 5.0", 1004 ml


Hydrangea serrata and other lacecap hybrids are making a comeback against their long-standing competitors, the mophead hydrangeas. With one look at 'Midoriboshi-Temari' you will understand why.

Resembling giant pink to lavender-blue clouds of fireworks, the double, fully sterile starburst-like flowers are borne on long, arching pedicels in a ring around dense clusters of pink fertile flowers that fade to lavender-blue. The display continues from June through August, adding a touch of magic wherever it's planted. This cultivar tends to be more upright than other H. serrata selections, making it an excellent choice along walkways or in tight corners. Give it a fair amount of light and moisture and you'll be well-rewarded!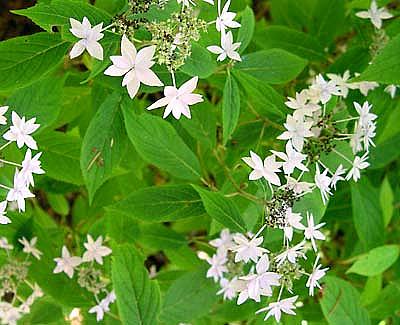 Heronswood Nursery