Philadelphus microphyllus
Littleleaf mockorange
CODE: 01F-0003
ZONE: 5a
PRICE: $9.00
POT SIZE: 4.5"sq x 5.0", 1004 ml


Native to to Southwestern United States, this little-known mock orange is often used as a parent in mock orange breeding programs because of its fragrance, flowers, size, and drought tolerance.

It's a wonderfully compact little shrub, diminuitive in all aspects even down to the small green leaves. Well, maybe excepting the gloriously large, pure white flowers that cover the plant in its early summer splendor. The fragrance is nothing to sneeze at either (unless you stick one too far up your nose), filling the air with heady scents of orange blossoms touched with pineapple. Ornamental aspects aside, it's a great low-maintenance plant as well. Originally found in dry, rocky slopes at elevations around 4000-8000 ft., its happiest in well-drained soil in full sun. It will tolerate a little bit of shade and a medium-textured soil, but make sure that the roots don't stay wet in the winter. Drought tolerance is its biggest cultural attraction. It has been recognized by the state of Utah as a 'Water-Wise Plant', meaning that once established it won't need to be watered more than once every two weeks with no loss to its aesthetic qualities. You can't beat that! It grows great as a low-maintenance hedge and tolerates shearing quite nicely, but I'm growing mine as a single specimen within my perennial border. I think it will be great with Eriophyllum lanatum and Sedum 'Purple Emperor'! So whether you're planning on breeding your own mock oranges or just want a fragrant, drought-tolerant summertime hedge or specimen, you really should check out Philadelphus microphyllus.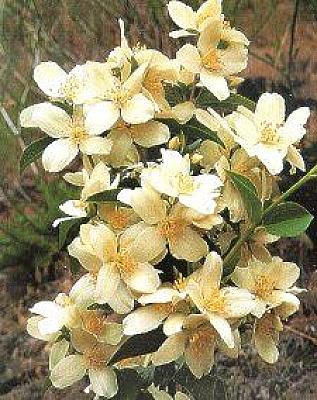 Courtesy waterwiseplants.utah.gov