Vinca minor 'Alba'
Alba common periwinkle
CODE: 01D-0004
ZONE: 4a
PRICE: $5.00
POT SIZE: 4.5"sq x 3.5", 475 ml


Quick! What's the opposite of dark?

That's right... Light. This white-blooming groundcover is great for those shady nooks in your garden. Covered with large white flowers from May through June, it acts like the common periwinkle that we've all seen in every other regard. But, oh! Those white flowers! I love planting bright-colored spring bloomers amid the Vinca, creating splashes of color against a backdrop of white. Try Crimson Star columbines or Virginia bluebells to see what I mean. Like most Vinca vines it will produce fewer blooms in deep shade, so if you can give it partial shade it will be happiest. It will fill a space faster if grown in organic, moist, well-drained soil, but it will also grow quite well in heavy clay as long as it gets adequate moisture.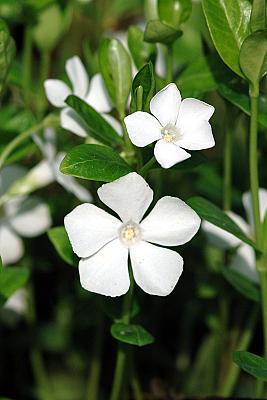 (c) 2007 Christopher P. Lindsey