Tricyrtis hirta 'Albo-marginata'
Albo-marginata hairy toad lily
CODE: 01C-0002
ZONE: 4a
PRICE: $10.00
POT SIZE: 4.5"sq x 5.0", 1004 ml


Ahhh, toad lilies. Ten years ago they were virtually unknown to all but the most hard-core gardeners, but now their worth has finally been recognized and they're taking the gardening world by storm.

Toad liles remind me of orchids -- the pale lavender flowers look tropical and delicate, but they're definitely not! This cultivar blooms from September through frost, surviving those cold autumn nights without batting a violet-speckled petal. Perhaps the neatest thing about this toad lily is the foliage -- each narrow, linear leaf is edged in a thin white band. I'm excited to have flowers in November, but I'm even more excited to have interesting foliage from spring through fall! I love to place it in front of dark corners or evergreens like hemlocks and yews where I let it form clumps. Because the flowers will fall off with the first frost, zone 4 gardeners need to make sure that they plant their late-blooming toad lilies in more sun. This will force the flowers to open earlier so that you can enjoy the blooms longer.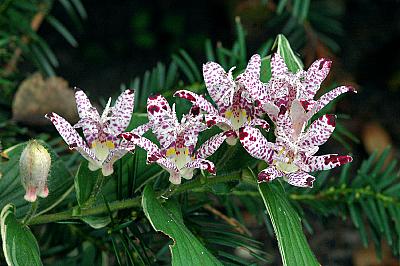 (c) 2007 Christopher P. Lindsey