Tricyrtis latifolia
Broad-leaved toad lily
CODE: 01C-0001
ZONE: 5a
PRICE: $8.00
POT SIZE: 4.5"sq x 3.5", 475 ml


The earliest-blooming of the toad lilies, it's also one of the easiest to grow and a great plant for gardening novices and experts alike.

Although a member of the lily family, the flowers are almost orchid-like in their delicate beauty. Five to six khaki-yellow petals mottled with sienna brown crown a fountain that rises up and then arches back down again in golden yellow glory. As nice as they are, I don't just grow this species for the flowers. The strongly veined foliage is equally interesting, clasping the zig-zagging stems nicely. Light mottling appears across the chartreuse to lime-green colored leaves as well. We've found that this toad lily performs best in moist environments and flowers most in areas that receive about four hours of sun daily, but it's really quite adaptable. I have a small clump growing quite well in a corner that receives very little sunlight at all. My favorite way to site these plants is against dark-foliaged shrubs like Ilex x meserveae or Tsuga canadensis. The light-colored leaves seem to pop out and brighten those corners.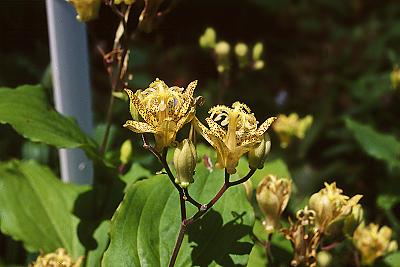 (c) 2007 Christopher P. Lindsey