Lysimachia nummularia 'Aurea'
Aurea creeping jenny
CODE: 013-0001
ZONE: 3a
PRICE: $6.00
POT SIZE: 4.5"sq x 3.5", 475 ml


A fast-growing groundcover, this yellow creeping jenny cultivar is perfect in partially shaded areas. Although it produces small amounts of yellow flowers in June, that's not the reason people grow it -- they grow it for the foliage.

Nearly perfectly round, the leaves resemble little golden orbs attached to the creeping maroon stems. In shadier locations the foliage turns more of a chartreuse to lime-green color, but if it receives several hours of sun per day it wll stay yellow. Since creeping jenny favors water so much, it's a natural choice for pond plants. I've also seen it cascading over walls into water to great effect, and even used in hanging baskets. It's truly versatile and beautiful at the same time.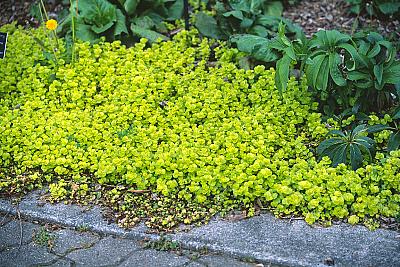 (c) 2007 Christopher P. Lindsey