Iris pallida 'Albo-variegata'
Albo-variegata sweet iris
CODE: 010-0006
ZONE: 3a
PRICE: $8.00
POT SIZE: 4.5"sq x 5.0", 1004 ml


This is the same plant as our beloved old-fashioned sweet iris with one difference: most people grow it for the foliage instead of the flowers.

Boldly edged with pure white and occasional streaks of dusky gray-green, the flat, sword-like leaves radiate out from the crown like a fan. It's a very striking effect, particularly against dark-colored plants (I like mine interplanted with dark-foliaged coral bells like Heuchera 'Can Can'). In May it puts forth a flower very much like the straight species, but no less special. It's still a beautiful light blue-lavender with a fuzzy orange beard and sweet scent, pairing nicely with the fine texture of the variegated leaves. Drainage is very important on this cultivar. Plant it in full sun (or partial shade in hotter climates) in rich, well-drained humusy soil.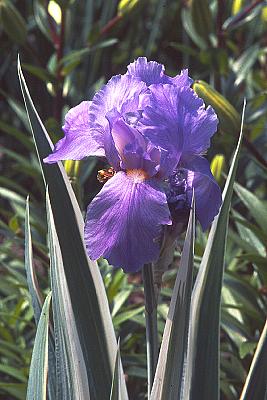 (c) 2007 Christopher P. Lindsey