Geranium macrorrhizum 'White-Ness'
White-Ness bigroot geranium
CODE: 00B-0012
ZONE: 3a
PRICE: $9.00
POT SIZE: 4.5"sq x 5.0", 1004 ml


'White-Ness' is a gift from the gods to us mortal gardeners. Literally collected on the slopes of Mount Olympus by Paul Matthews of the Ness Botanic Garden, the flowers on this charmer are as pure white as the Grecian temples they grow near.

The plant lacks the pigmentation necessary for the pink coloration found in other cultivars of this species, so other than green sepals, every part of the flower is white. The glossy leaves are also more pale than the species, lighting up the garden and providing an excellent foil for its bright blooms. In my east-Central Illinois garden it's the only bigroot geranium that blooms through June -- when the others have stopped this one just keeps on going. It's a perfect plant for the partially shaded border or to let ramble through rocks, small shrubs, or the Ionic columns of the Parthenon.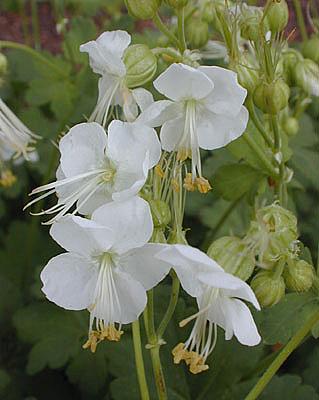 Heronswood Nursery