Euonymus fortunei 'Canadale Gold'
Canadale Gold wintercreeper euonymus
CODE: 008-0003
ZONE: 4a
PRICE: $7.00
POT SIZE: 6.0"sq x 6.5", 2750 ml


From the moment that I laid eyes on it at the Morton Arboretum, I knew that this would always be my favorite Euonymus fortunei cultivar.

I really enjoy variegated foliage, and there's no shortage of wintercreeper euonymus with patterns on their leaves. Some are splotched with white, others streaked with gold, and so on. Although they're all attractive, they don't strike me as being refined. The variegation is too bold, the colors too different, the contrast too great. Canadale Gold has proven that stereotype wrong. Instead of harsh gold against dark green, it glows with a soft yellow warmth that gradually fades into lime-green centers with slightly yellow veination. It's a classy variegation that wows you with its elegance instead of its boldness. I've hunted far and near to find this cultivar and make it available, and a few years ago I found paydirt at a big-box store of all places. I haven't seen it since, but that's OK. I got mine, made cuttings, and now I can finally share them with you. It works wonderfully in shady openings under evergreen shrubs like yews and hemlocks, brightening normally dark corners. Give it a little room to spread and you'll be well-rewarded!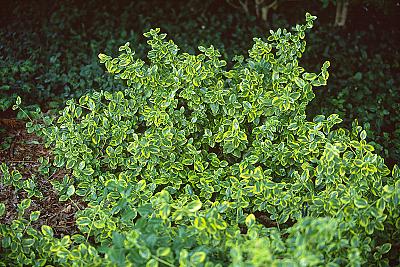 (c) 2007 Christopher P. Lindsey