Echinacea paradoxa
Yellow coneflower
CODE: 007-0005
ZONE: 3a
PRICE: $8.00
POT SIZE: 4.5"sq x 5.0", 1004 ml


Echinacea paradoxa is exactly that -- a paradox, running contrary to our expectations for a coneflower. Instead of flowers ranging from shades of pink to purple, this species has bright yellow to orange-yellow petals surrounding a chocolate-brown cone from June through August.

It's just as easy to grow as purple coneflower: dry to medium wet well-drained soil in full sun will do the trick. It's a US native from the Ozark regions of Missouri and Arkansas, but its unique color has made it a key contributor in breeding programs for new coneflower cultivars like E. Mango Meadowbrite™ or E. Orange Meadowbrite™. I like to leave the seedheads on the plants to feed goldfinches in the winter and obtain the occasional seedling. Who knows? Maybe they'll cross with your coneflowers and you'll come up with a whole new cultivar!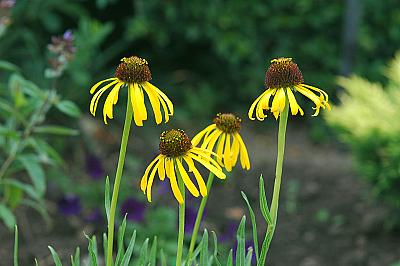 (c) 2007 Christopher P. Lindsey