Echinacea purpurea
Purple coneflower
CODE: 007-0001
ZONE: 3a
PRICE: $6.00
POT SIZE: 4.5"sq x 5.0", 1004 ml


I was first introduced to purple coneflower in 1991 when I was a studying landscape architecture at the University of Illinois. We were working on highway cloverleaf designs for the Illinois Department of Transportation's 'Corridors for Tomorrow Project' -- the idea is to use the unused space in Illinois' transportation corridors (i.e. highways) to re-establish or recreate naturally occurring habitats.

Anyhow, at that time I was a 21 year-old plant neophyte and didn't really understand that native wildflowers were every bit as beautiful (if not more beautiful in many cases) than their cultivated and bred garden counterparts. Working with purple coneflower really opened my eyes to the possibilities. It may not be as flashy as some of the newer cultivars, but it's beautiful in its simplicity. Looking like large, pink badminton birdies with orange centers, the individual flowers last for weeks at a time on plants that bloom from mid-summer until frost. I like to interplant this species in areas where a less formal effect is desired; unlike cultivars, it tends to be more loose and open. It pairs well with palm sedge and false sunflowers like Loraine Sunshine. It grows well in full sun to partial shade, although it will flower more with sun. It doesn't like too much water, but other than that it's quite tolerant of most conditions. Plant one or three and rediscover the natural beauty of coneflowers.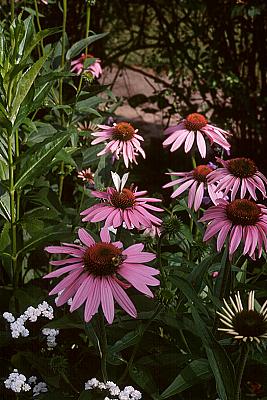 (c) 2007 Christopher P. Lindsey