Carex pensylvanica
Pennsylvania sedge
CODE: 003-0006
ZONE: 5a
PRICE: $7.00
POT SIZE: 4.5"sq x 5.0", 1004 ml


Oh, what I wouldn't give for a whole lawn of Pennsylvania sedge!

I love the soft, grass-like, arching mounds of bright green leaves. I love the fact that it doesn't get any taller than 6-8", and I love the fact that it's drought tolerant and can handle sun or shade equally well. Alas, using this as a lawn substitute isn't an option for me or my pocketbook yet -- I'll have to collect LOTS of seeds first. I still have my happy little patch on the corner of a concrete planter in the backyard, and it works perfectly there. The hard lines of the concrete are softened and the comparatively coarse texture of the daylily behind appears finer with the addition of this native sedge. It spreads via the root system, slowly creating an ever-widening circle of growth. It's not invasive at all -- it just works around any perennials in the area. The one mistake I made in my planting was to be a little over-optimistic regarding drought tolerance. Mine is in full sun with no water whatsoever, so by August the foliage starts to look a little thin. If I had to do it over I'd either put it in a spot with more moisture or a little more shade.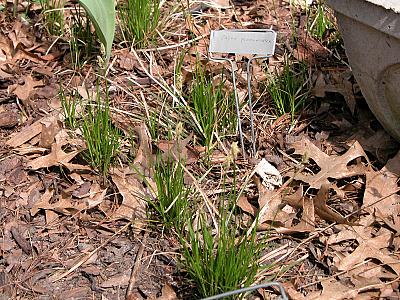 Karen Fernsler